One of the reasons my son-in-law left was to avoid it. When I recently spoke on Amish Customs and Beliefs, an audience member asked me about it? A blog reader asked me about the incidence within the Amish.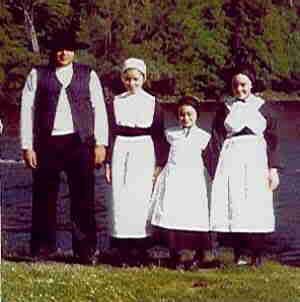 What am I talking about?
Genetic problems
and emotional disorders among the Amish. Sadly, these challenges are common. (
Tweet That
) My post today isn't meant to disrespect the Amish but to reveal one of their issues. One they are just now realizing and beginning to address.
Sometimes settlements will relocate in an effort to bring in "fresh blood." But without genetic research or genealogical studies, they don't know if they marry someone who, from generations past, is related.
I've met former Amish who have bi-polar, schizophrenia, depression, and addictions. I've met Amish with dwarfism. Everyone is precious and some of their challenges could've been avoided or properly diagnosed and treated--if Amish sought outside professional help. Most times, however, their attitude is, "It's God's will."
Got 10 minutes?
Watch this informative video. Sorry about its poor quality, I think someone uploaded a TV news story while watching it on their on TV set,
Genetic problems among the Amish
. It's well worth your time investment.
(c)Copyright 2013, Brenda Nixon.